NMIMS Global Campus, Navi Mumbai gets into the CSR Active Mode

SVKM's NMIMS has established its Global Campus at Navi Mumbai to develop students into global organizational leaders who can create wealth for their organizations. The new campus at Navi Mumbai offers "Post Graduate Diploma in Management" – PGDM, MBA-Tech and BBA. NMIMS Global Campus, Navi Mumbai aims to define the 21st Century Technological, Management and Organisational Research breakthroughs and provide an education which incorporates the best global academic practices. Its endeavor is to nurture and develop high caliber global citizens who add new dimensions to thought leadership. The Global Campus has been founded as a center for management education for global excellence to impart contemporary global management education for sustenance, innovation and world class performance excellence strategically and distinctively coupled with mental peace and tranquility of Indian Management Ethos. Equally important for this campus is to sensitize its students to the other face of modern India which is commonly known as Bharat. NGO internship is one such initiative towards this end. Village adoption and carrying out various community development projects in the village is another novel initiative of this campus.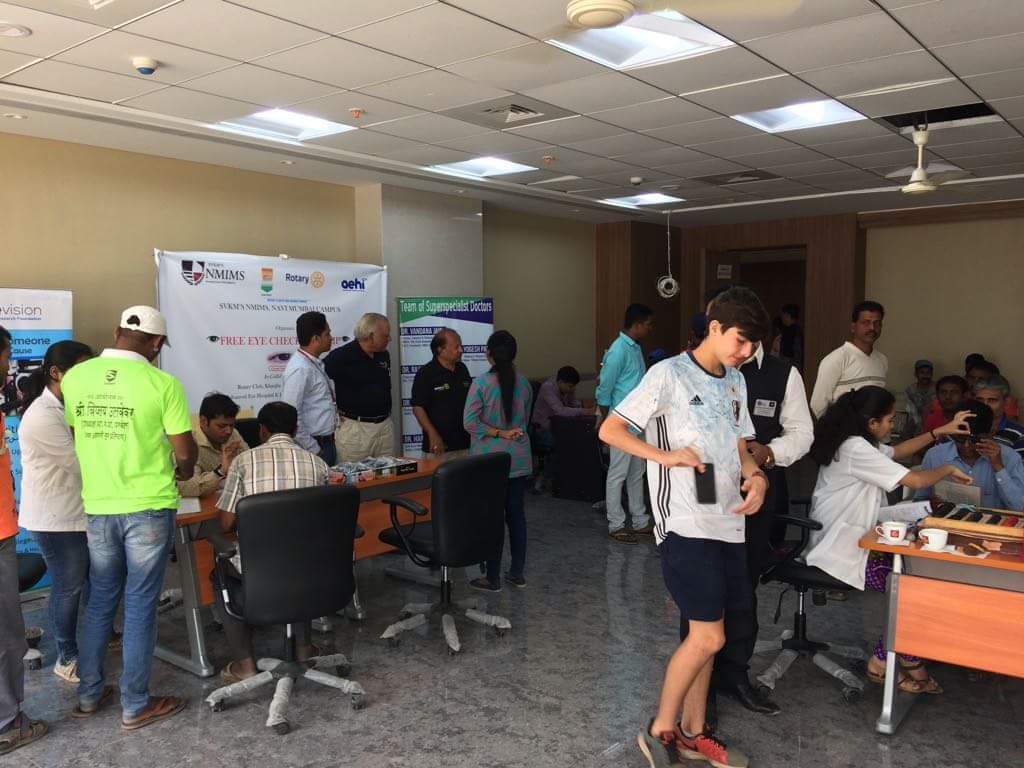 On 18th February 2018, NMIMS Global Campus, Navi Mumbai flagged off its first community based project with a Free Eye Checkup Camp for the villagers of Pethpada and Farsipada. NMIMS Global Campus in collaboration with Rotary Club of Navi Mumbai and Sunrise and Advanced Eye Hospital and Institute (AEHI) Sanpada, organized a camp in its campus where 160 villagers availed the benefits of the camp. 80 people were given free spectacles and multiple cases with cataracts, Age-related macular degeneration (AMD), Crossed eyes (Strabismus) etc. were diagnosed and referred to AEHI for free consultation and treatment. Pethpada village has more than 200 households and NMIMS Global Campus has resolved to initiate various income and employment generating activities for unemployed youth on the one hand and take up some educational and health related projects on the other.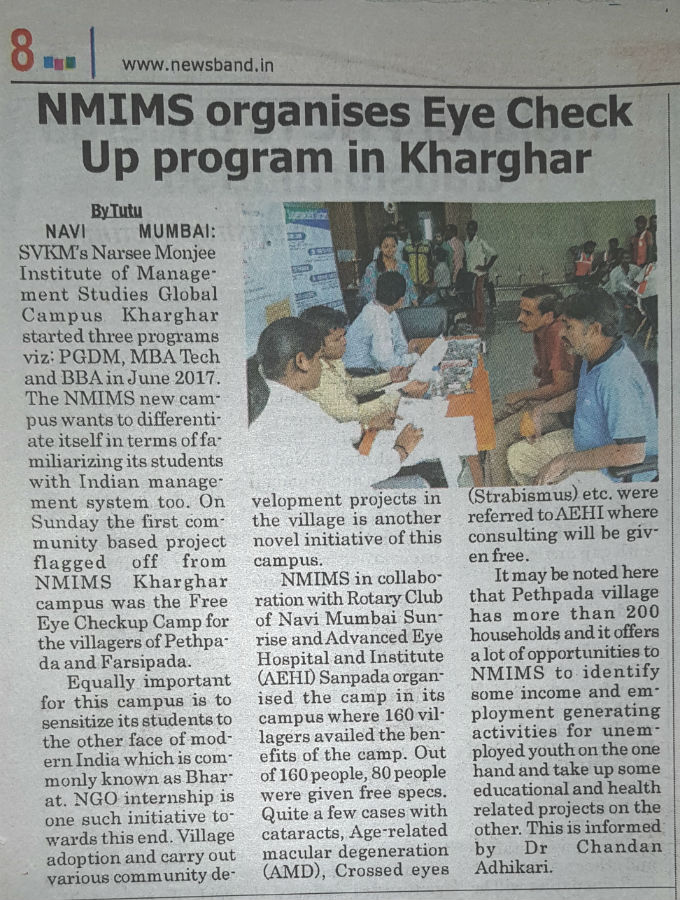 The Free Eye Checkup Camp CSR Activity was efficaciously accomplished by the following staff of NMIMS Global Campus, Navi Mumbai:
1. Dr. Chandan Adhikari (Adjunct Faculty)
2. Ms. Karuna Garud (Exam Coordinator)
3. Mr. Prasad Parab (Computer Lab Assistant)
4. Mr. Pritam Nevase (Workshop Supervisor) & the support staff.